Thoughts on Sea Limited
The $50+ billion Internet company mobilizing gaming, e-commerce, and payments across Southeast Asia
I've become very excited about Sea Limited over the last 6 months, so I wanted to do a write-up of my thoughts and observations here.
(Disclaimer: I own stock in Sea Limited (NYSE: SE) so I have an interest in the company performing well. Everything I conclude here is solely my opinion based on publicly available information. This is not financial advice and shouldn't be taken as such!)
Sea Overview: 2009–2020
Sea Limited (known simply as "Sea") is a Singapore-based Internet company that has quietly become a contender for the "Tencent of Southeast Asia" title.
The company was started in 2009 by Forrest Li. It initially began as a communications tool for gamers, but slowly became a massive empire spanning digital media, e-commerce, and financial services.
Today, Sea is a $50+ billion company. They have three major businesses, all of which are growing quickly across SE Asia:
Garena: digital entertainment and gaming

Shopee: mobile e-commerce

SeaMoney: e-wallet/financial services
I'll go through each of these businesses below.
Garena: Gaming and Digital Entertainment
Garena began as a chat platform for gamers. They later started publishing third party games while continuing to develop complimentary social tools including live streaming, forums, and esports.
In 2010, Garena announced that they had received exclusive licensing rights (in SE Asia and Taiwan) from Riot for League of Legends. This was a huge milestone for Sea for two reasons:
First, League of Legends is one of the most popular games in the world, firmly establishing Garena as a gaming juggernaut.

Second, this began a long-term relationship with Tencent, the parent company of Riot.
Garena continued to grow quickly, but they were only acting as a publisher for third party content (and therefore only retaining a portion of the revenue generated by the games).
In 2017, this changed when Garena launched their very first fully self-developed game: Free Fire.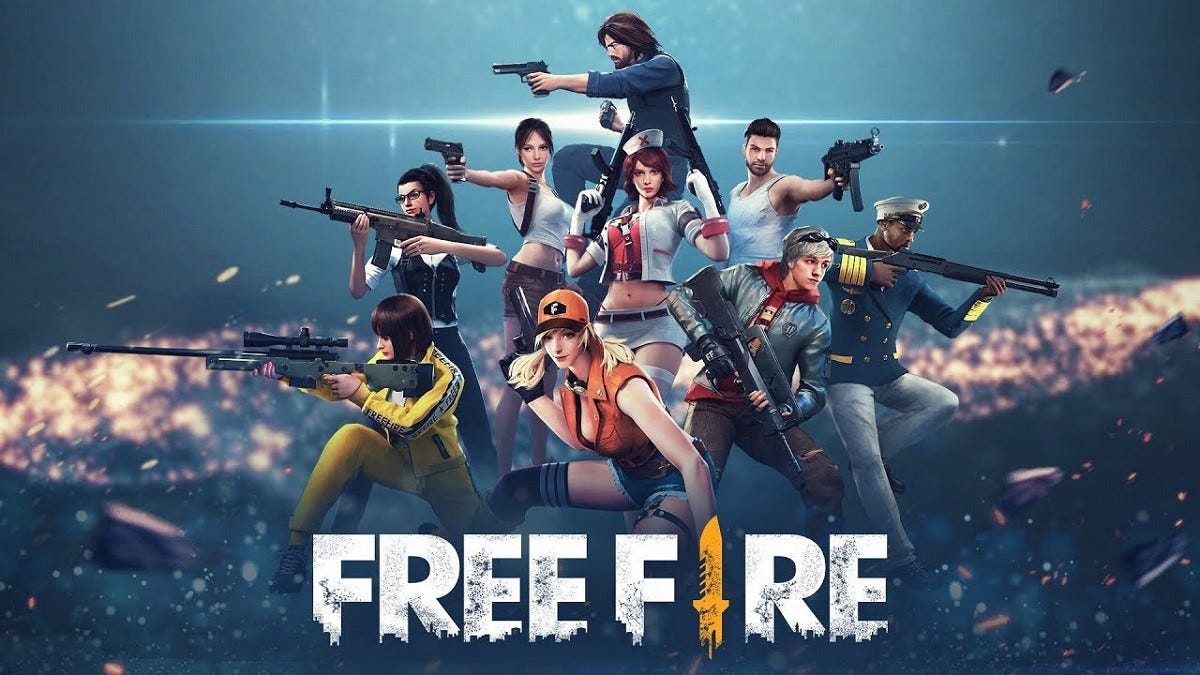 Free Fire is an online multiplayer battle royale game, frequently referred to as "the Fortnite of Singapore." (It was launched 7 months after PUBG, and 2 months after Fortnite.)
Despite Free Fire being Garena's first foray into game development, the game was immensely successful. According to App Annie, it was the number one most downloaded mobile game across iOS and Google Play in 2019. Today, Free Fire has over 400 million quarterly active users. In May of 2020, Free Fire set a record for reaching 80 million daily users in a single day.
Garena is the number one gaming company in SE Asia for both PC and mobile. They have essentially zero competitors in the region. Garena is also expanding rapidly in LATAM, and is a big platform in Brazil.
In Q1 of 2020, Garena's revenue was $512.4 million, up ~30% YOY.
Shopee: "Amazon" of Southeast Asia
After Garena began to see success, Sea went into e-commerce by launching Shopee in 2015.
Shopee is a mobile shopping platform with integrated payment, distribution/logistics, and fulfillment services. There are also some social features including mobile games, live streaming, and the ability to follow other users. Shopee makes money primarily through transaction-based fees and advertising.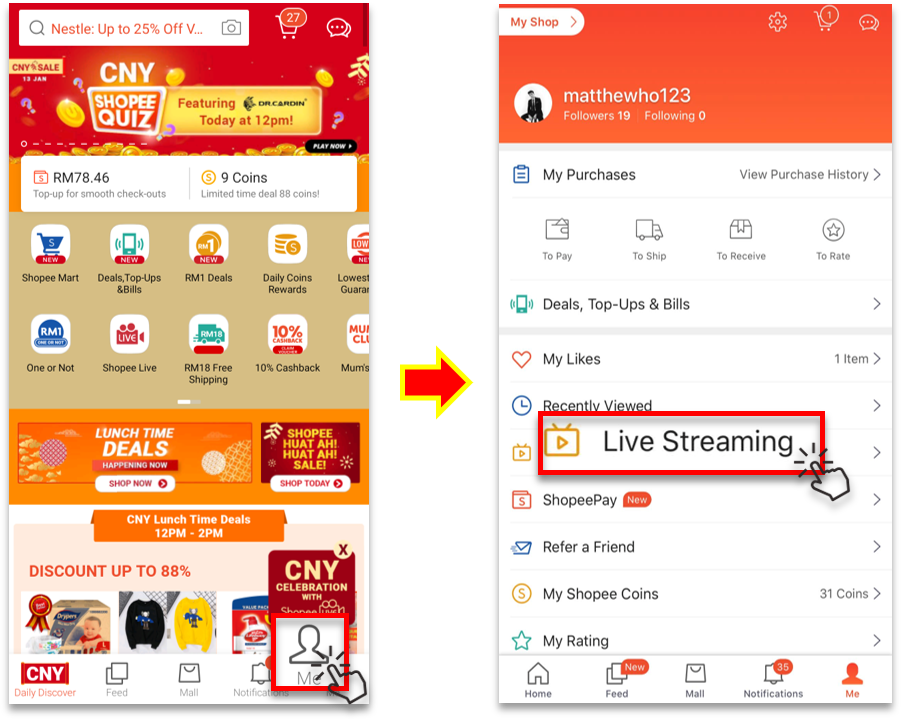 Unlike Garena, Shopee has quite a few substantial competitors in the SE Asia region (most notably is Alibaba's Lazada). Despite this, Shopee grew quickly and became the market leader in the region.
Sea's former president Nick Nash attributed much of Shopee's early success to being asset-light and electronics-light, meaning they only own the marketplace (not inventory, WM, supply chain) and they focus on products that have high gross margins/frequent purchases (clothing, household items, etc.) rather than products that tend to have lower gross margins/infrequent purchases (computers, cameras, other electronics). At the time, he noted that their approach differed from that of Lazada (who was asset-light, but electronics-heavy).
(This does not seem to hold completely true today - a quick look at Lazada will show you that they are definitely pursuing those higher margin product categories. And Shopee also does hold inventory on its balance sheet that it sells directly to consumers. Regardless, Sea's initial strategy made sense from a product and competitor standpoint.)
Shopee is executing brilliantly. According to App Annie, the app ranks first across most of SE Asia by downloads, MAUs, and time spent. Their innovative customer service and social features are also taking off. Shopee's adjusted revenue for Q1 2020 was $314 million, up 110.5% YOY. They did $6.2 billion in GMV for the quarter, up 74.3% YOY. They have also expanded into LATAM (notably, Brazil) and have seen initial traction there as well.
SeaMoney: Financial Services
Sea's third business is SeaMoney, which offers a variety of a digital financial services including e-wallets, credit services, and payment processing. SeaMoney is integrated with Shopee, but also has standalone services.
This is notable because one of the biggest barriers in SE Asia is that only 27% of the population has a bank account and even fewer have credit cards. In order for Shopee to succeed at scale, it made sense for Sea to also move into integrated financial services.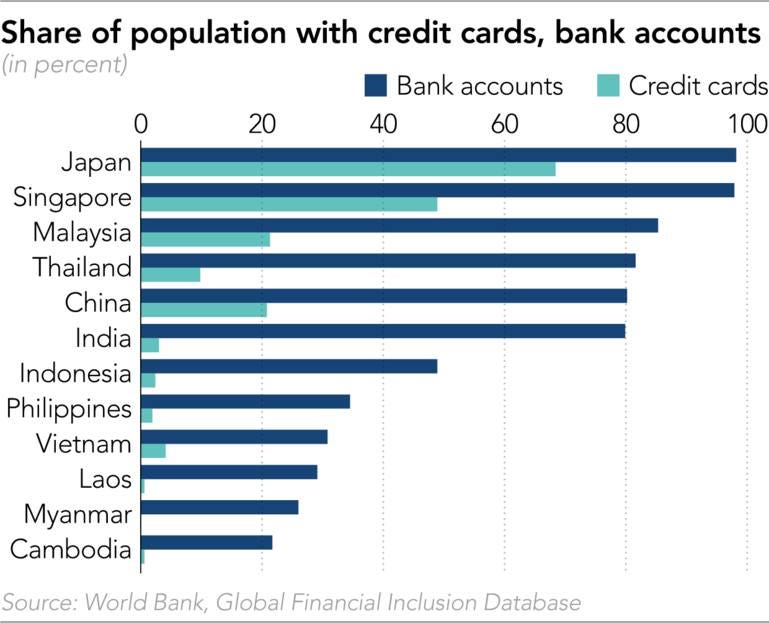 SeaMoney is not without competitors. In Indonesia (SeaMoney's largest market), most of the banks already have their own e-wallet apps. Gojek's Go-Pay is another huge competitor in the region. In addition, Alipay (Alibaba) and WeChat Pay (Tencent) are both actively trying to gain traction in the area (however, they haven't had much success due to some resistance from the Indonesian government).
Despite competitors, SeaMoney is growing quickly, probably in large part due to its integration with Shopee. (In April of this year, over 40% of gross orders on Shopee in Indonesia were paid for with the e-wallet service.)
This quarter, SeaMoney hit a record $1 billion in total payment volume in Q1 of 2020, just as quarterly paying users hit 10 million.
Long Term Outlook
One of the most remarkable things about Sea is how long-term they are when it comes to strategy. (In fact, they purposefully took no VC money for this reason - see my twitter thread below for more on this.)
When asked about the long term vision of the company, Sea's President Nick Nash answered:
"Look at the basic food groups of life: entertainment, retail/consumption, payments/financial services… and food… That's a big chunk of GDP right there… the human needs are there for technology to be applied to solve basic problems. As long as that's there, we'll be working hard to try and solve those problems for people."
This is either completely insane or we are truly on the brink of a Tencent-like company. All three of Sea's businesses are executing well, growing quickly, and seem to have a lot of room for future growth, too.
Most importantly, the founder Forrest Li does not appear to be leaving the company anytime soon. A committed, long-term thinking founder with a big percentage of ownership is always something I love to see when looking at a company.
Diversification Done Well
Sea has taken on a diversified revenue strategy similar to that of other powerhouse companies across Asia like Tencent, Alibaba, and Bytedance.

Revenue from digital entertainment increased 2.5x between 2018 and 2019, and revenue from Shopee and SeaMoney also increased ~3x. For the year of 2019, e-commerce and other services accounted for almost 40% of total revenue.
We are seeing sustained growth throughout the first quarter of 2020 as well, with both categories increasing more than 100% YOY.

To recap, this is a gaming company that launched one of the number one games on the planet, and also built an e-commerce platform… and a payments/wallet platform… And all three of these efforts gained huge traction simultaneously, despite requiring very very different types of talent, skillsets, and resources.
American investors and product people tend to flinch at diversification that appears orthogonal in this way. But when you look at Sea's chosen businesses in the context of "How do we best engage the high ARPU internet user in SE Asia?", these three areas make a lot of sense. Sea wants to own the wallet and all of the commerce that users engage with - both for physical items (Shopee) and digital entertainment (Garena).
Focus on Localization
Executives from Sea frequently cite their focus on hyper-localization as a reason for their success in diversification so far.
Sea's former president Nick Nash once said:
"Two things we've learned about how to expand is the unbelievable importance of localization . Sounds obvious. For example, of course you want to change the language, the idiomatic expressions…. but the harder localization is much more on the pixel level… Who are your partners on the local level? Which professor has the best eye for spotting talent and how can you hire from them?"
Because their customer base is so broad and spread out across SE Asia, Sea must adapt and change their products - not just country by country, but city by city, and community by community. For example, in Vietnam and Thailand, people need to use cash - so Sea lets them do that. They actually set up hundreds of locations where people can go, receive cash, and have that cash put into a merchant's wallet.
Sea has demonstrated an ability to scale in other countries while also maintaining an empathy for the unique consumers there. This is an incredible execution feat, and gives me confidence that they will ultimately outperform Alibaba, Amazon, and other foreign entrants who simply do not have this kind of agility in their DNA.
Some Bad Stuff
I also want to bring attention to a couple of shady things that have happened involving Sea:
A quick search of the League of Legends subreddit will tell you that many users in SE Asia are unhappy with Garena. Users complain that the technology is slow, and that Garena handles things unfairly with respect to tournaments and in-game purchases.

In 2018, users in the Philippines noticed that their CPU usage drastically increased when loading the Garena client. Upon further inspection, they discovered that this was caused by unauthorized code that was mining crypto (Monero) on users' PCs. Garena issued a formal statement about it on one of their Facebook pages. From what I understand, it still remains unclear how this code got there. There appears to be no damage outside of increased CPU usage (and of course, electricity bills).

There also appears to be some bad blood around the origins and initial success of Garena. I can't find any clear analysis of this outside of Reddit posts, so I'm not sure if it is legitimate.

An Overlooked High-Growth Region
Many countries in SE Asia remind me of China 5-7 years ago just as the mobile-driven economy was beginning to explode. Many people remain unbanked, but there is a steady adoption of mobile e-wallets as smartphones continue to gain prevalence. The Internet economy across SE Asia has already seen huge growth in recent years: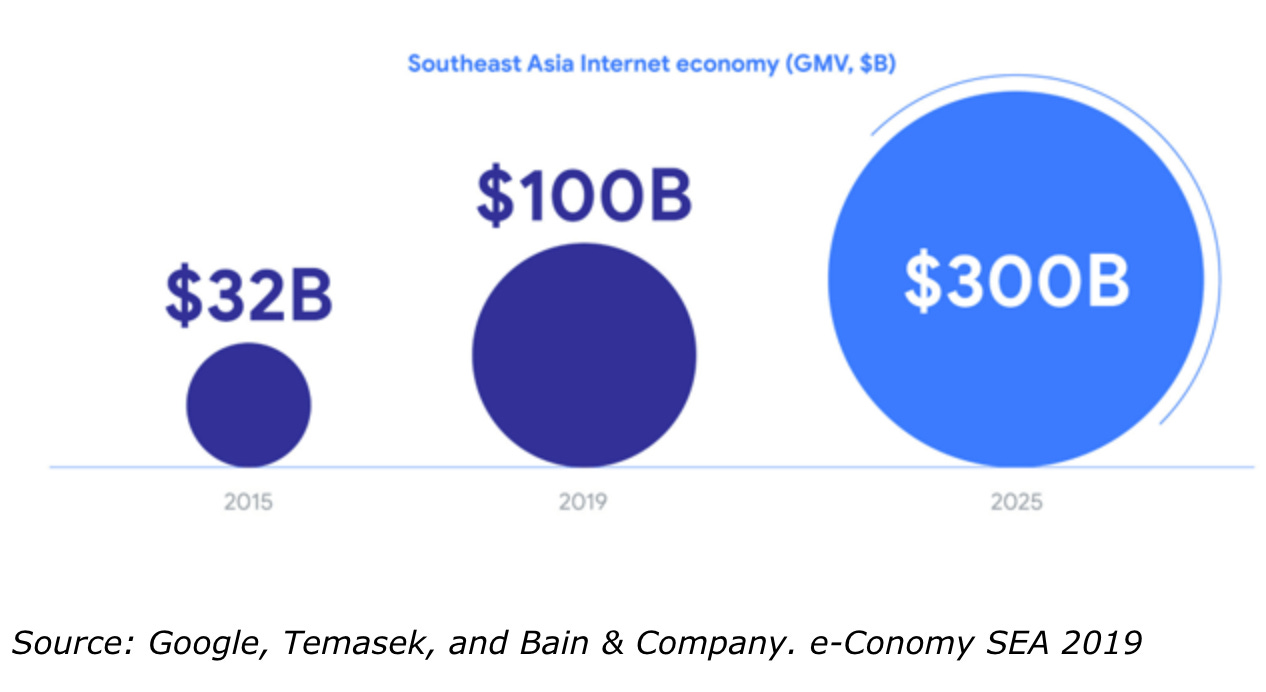 Across Asia in general, the mobile software economy is foundational and prolific; everything from augmented reality to QR codes to vertical video to the creator economy tends to be adapted much more quickly in Asia than in the US.
Most people attribute this difference to desktop. In the US, we have more "UX debt" (if you will) due to many prior years of interacting with PCs:
We look for "buttons" on mobile interfaces instead of swipes, taps, and pinches.

We type in our credit card info instead of using our camera/QR codes.

We expect stores to have credit card machines.

We "wait until we get back to our computer" for a large number of tasks.

Instagram, one of the most transformational social products of the modern era, is primarily a feed of square (rather than vertical) photos and videos.
In many Asian countries, users jumped straight to smartphones and therefore have a much more uniquely smartphone-driven culture.
All three of Sea's businesses are poised to benefit greatly from an acceleration of these forces. This kind of growth could further compound because the use of one of Sea's businesses enhances use of the others.
Side note: Interestingly, Nick Nash discussed the startup environment in SE Asia at length in 2016. One thing he pointed out was the general lack of Series B and Series C funding available in the area. "You have to go straight to PE/strategic, or sell your company, or compromise your growth story." He left Sea in 2018 and appears to have started a fund addressing exactly this issue. Pretty cool and gets me even more excited about SE Asia as a region.
Free Fire and "The Metaverse"
Let's return to Free Fire, the "Fortnite of Southeast Asia," and how it relates to the future of media more broadly.
Many analysts and media experts point to platforms like Fortnite, Roblox, and Minecraft when it comes to the future of media. These platforms are immersive and real-time; they provide the user with a "third place" to hang with their friends. This is emblematic of what I think is a larger paradigm shift away from ad-supported, feed-driven platforms like Facebook towards more intentional, user-driven exchanges of value (Roblox, OnlyFans, Discord, Snapchat, Cameo).
Sea could be positioned quite well to play a big role in this given the massive success they've had with Free Fire.
Epic never intended for Fortnite to be just a game. Rather, they want it to be a place for all kinds of immersive experiences, as evidenced by the live concerts they've held on the platform with Marshmello and Travis Scott.
Sea is embracing this philosophy as well. Free Fire is a game, but it is also a constantly updating universe; it is a map of things you can do with your friends. Last year, for example, Garena introduced a new map in Free Fire called Kalahari. Users liked it so much that it became a permanent part of the game.
Sea is also pushing the envelope when it comes to localized experiential content on the platform. I found this quote from Sea's Q1 2020 earnings call to be particularly revealing:
"… our local teams are focused on developing highly localized content for our users. In Indonesia, for example, we have partnered with one of the country's most popular actors and star of Mortal Kombat, Joe Taslim, to create a playable in-game character called Jota modeled after Joe himself… So far in Indonesia over half of our users have played as Jota. This initiative highlights how these elements of local flavor really resonate with our users."
In Brazil, they partnered with DJ Alok for a live set in Free Fire. In Colombia, they held an event where two of the country's biggest soccer players hosted a live tournament for charity.
These are perfect examples of Sea's incredible agility and execution. But on a more philosophical level, they demonstrate that Garena could actually become more than just a very profitable gaming platform - perhaps Free Fire, down the road, will become a new type of platform altogether.
Relationship with Tencent
Forrest Li has been vocal about his admiration for Tencent and how much he appreciates their mentorship and strategic guidance:
"When we started the company 9 years ago, Tencent was our inspiration. We started as a game platform, and we believe the best model of a game company is what Tencent did in China."
In 2018, they entered a longterm publishing partnership involving Tencent's gaming IP, which was tremendously successful for both parties.
Tencent also invested in Sea multiples times over the years, and the two companies have a very intertwined relationship. Tencent is a large shareholder and holds a significant amount of voting power: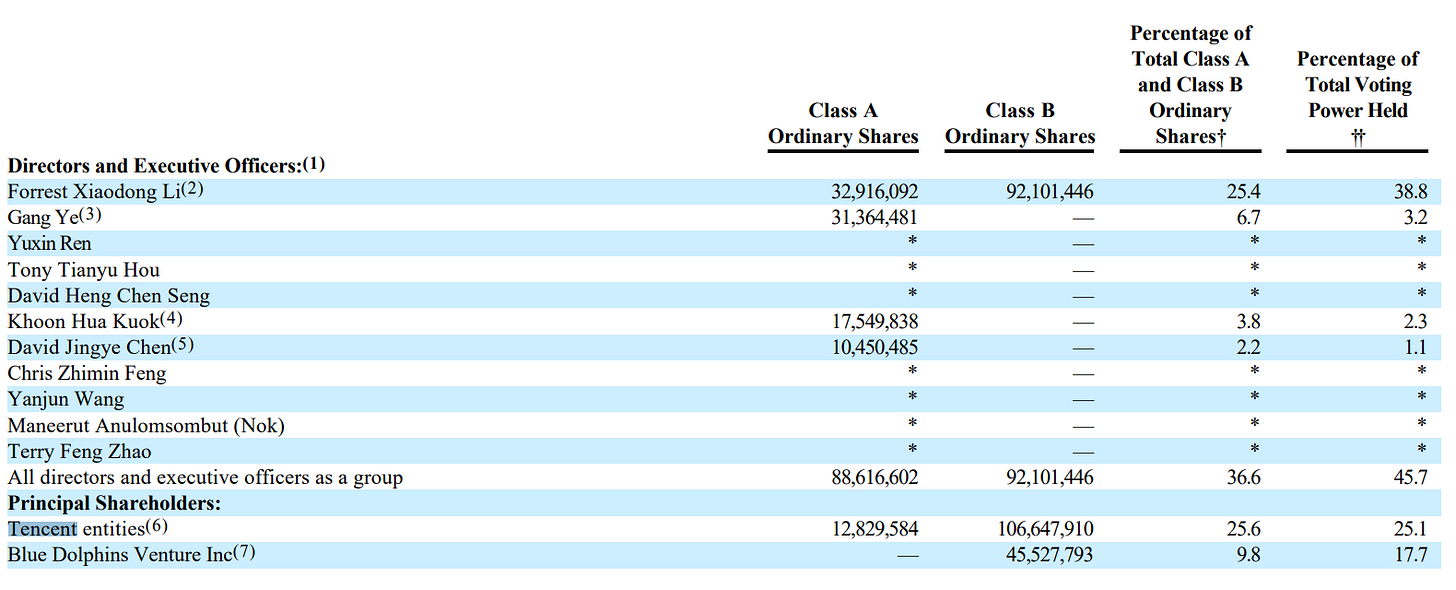 There are many risks associated with this (ex: they are dependent on Tencent for much of their game publishing business). However, there are also a lot of reasons to be excited about a continued close partnership between the two companies (ex: Tencent mentored Sea in gaming. Will they also mentor them in other types of creator-driven paid content within the Sea app ecosystem?)
Other Thoughts
Another thing I want to discuss is how much more forward-thinking Internet companies in Asia tend to be when it comes to how to monetize Internet platforms. The biggest Internet companies in the US are primarily advertising-driven whereas companies like Tencent are primarily driven by user-paid content and transactions.
The latter is a more compelling business model for a variety of reasons:
It's better for the end user. Users generally have more time well-spent on platforms that are designed to help you discover and enjoy paid content (rather than platforms that are designed just to keep your eyeballs glued to the screen).

It's better for the company itself because user-paid platforms tend to have a much higher revenue/user than platforms supported by advertising.

It's better for the creators of content because they end up being paid directly (rather than through advertising). I think this will be a much more sustainable approach long-term because it enables creators to retain more of the "pie." (See: this brilliant post by venture capitalist Li Jin.)
It will be interesting to see how Sea continues to execute and capitalize on the convergence of all of these forces. The stock price is already up over 200% YTD (!). I have no clue if they will be able to maintain today's insane valuation. I definitely expect the stock to continue to be quite volatile. Regardless, Sea is an incredible company and I am very excited to see what happens over the next decade!
If you enjoyed this, please follow me on twitter! I tweet about investing, VR/AR, social media, and content.